phone:86-714-6393188
Telephone:86-714-6393188
Q Q:297705516
Email:hongda@hdeko.com
Address:Machinery Industrial Park, Huangjinshan Development Zone, Huangshi City, Hubei Province
"Yike mould" was founded in 1993. At present: Shanghai Yike mould Co., Ltd., Huangshi Hongda Plastic Mould Co., Ltd., Shanghai Yuhao Plastic Co., Ltd. and Wuxi jiuke mould Co., Ltd. have more than 200 employees with an annual value of 100 million yuan.
"Yike" integrates manufacturing, R & D and service, grasps the core technology of extrusion production chain, owns a number of national patents, obtains the support of national high-tech industry funds, and has repeatedly contracted to complete the overall projects of Extrusion Engineering of large enterprises at home and abroad. Provide customers with a full range of support from mold design, formula technology, extruder selection, product production, etc.
"Yike" has advanced and sophisticated manufacturing equipment. It has various kinds of advanced mold processing equipment, such as slow wire walking, machining center, CNC EDM, deep hole drilling, etc. the debugging workshop is equipped with various extrusion production (Trial mold) lines.
In China, Yike has the honor to provide many well-known enterprises with good products and cooperation.
In the world, Yike's products are exported to the United States, the United Kingdom, Germany, Japan, Ireland, Mexico, Australia, Syria, Russia, Iran, Egypt, Bangladesh, Indonesia, Thailand, Outer Mongolia and Vietnam.
We believe that technology can change the world.

At present, the number of extrusion dies produced by Yike is in the forefront of China. It has 45 medium and low speed wire cutting machines, 21 CNC machining centers, 6 die debugging extruders, 65 CNC machine tools and a series of professional large-scale processing, tooling, testing and testing equipment.
At present, there are 280 employees, including nearly 100 designers, formula technologists, mold debugging personnel, senior technicians and other high-tech talents, accounting for more than 40% of the factory staff. Its R & D ability is recognized by the industry and is in the international leading level in many professional fields.
---
"Yike" has a good reputation, with an annual supply of 1500 sets of molds (Festival), and its products are distributed in all provinces and cities of China, and exported to more than ten countries and regions such as the United States, the United Kingdom, Ireland, Brazil, Turkey, Russia, Japan, South Korea, Malaysia, Vietnam, Indonesia, Bangladesh, India, Iran, etc. In particular, high-speed profile mold, precision wear-resistant wood plastic mold, no flow sheet mold is widely praised by all parties.
More than 20 years of tempering, 300 employees, more than 1000 customers and tens of thousands of molds have created world brands - "Hongda Hongda" and "Eko Yike"
---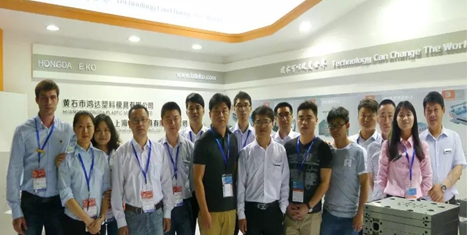 Yike spirit: seeking perfection and innovation, honesty and first-class;
1. Ke's goal: technology changes the world;
Yike provides: world class extrusion mold and technical service
---
I. Ke's course:
In 1993, he was one of the earliest pioneers of extrusion die in China
In 1996, Hongtai mould Co., Ltd. was established in partnership to manufacture and produce PVC profile moulds
In 1999, Hongtai changed its name to Hongda mould company
In 2001, we studied the correlation and interaction of mold, equipment and formula
In 2002, research and development of PVC wood plastic mold, PE wood plastic mold
In 2003, it passed the ISO-9001 (2000) international quality system certification
In 2003, research and development of PVC surface hot pressing mold
In 2003, the sales volume exceeded 5 million yuan
In 2004, research and development of PVC foam board mold
In 2004, the Ministry of foreign trade was established and officially went abroad
In 2005, we researched and developed the runner design of hanger mold and organized experts to tackle key problems for many times
In 2005, the sales volume exceeded 10 million yuan
In 2006, it was the first time in China that the hanger type runner was applied to the mold of wide grid plate
In 2007, Shanghai Yike mould company was established
In 2007, the company acquired land and built a factory in Huangjinshan National Development Zone
In 2008, the sales volume exceeded 20 million yuan
In 2009, participated in the formulation of PVC hollow lattice board industry standard
In 2010, Huangshi Hongtai board Co., Ltd. was established
In 2010, it hosted the annual meeting of the national special committee on foamed board
In 2011, wood plastic technology was applied to building formwork
In 2012, large precision mold was supported by national high-tech fund
In 2013, a joint venture was established in Mongolia to produce plastic steel products
In 2013, the sales volume exceeded 50 million yuan
In 2014, foreign trade orders exceeded 10 million yuan
In 2015, it passed the national high-tech enterprise certification
In 2016, we will promote new products and technologies of wall panels and parapets
In 2017, Shanghai Yuhao Plastics Co., Ltd. was established
In 2017, Wuxi jiuke mould Co., Ltd. was established
In 2017, the sales volume exceeded 80 million yuan
In 2018, the international brand "Yike Eko" will be used uniformly